Brazil, Espírito Santo, Rancho Dantas
When we selected the first beans to be roasted, it was clear that we would start with two kinds – one with fruitier notes, on the citrus side, and the other more full-bodied, roasted darker, with "classic coffee" lovers in mind. When we think of the classics, Brazil is definitely the first country that comes to mind in the world of coffee. And the darker roast will certainly be the correct roast for 'classic' coffee lovers.
At Rancho Dantas, the coffee is hand-picked and only the ripe fruits are selected. After being picked and pulped, the cherries are transported to covered patios for the first drying stage which lasts three days. Bad fermentation ruins the coffee, so a special care is taken during these first three days.
The beans are then moved to the next drying area under the roof, where they reach their ideal moisture level over the next 15 to 20 days. During the drying process, the beans are turned regullary until they reach the required quality.
The working day at Rancho Dantas, a family farm with around 2 500 coffee trees, starts at 5am and ends at 9pm. Pedro is the main man in the coffee fields and in charge of the bean-pressing machine, while his wife, Gracilda, manages the drying patio along with taking care of the house, their daughter and their animals.
These coffee growers, like us, are a family business, which was one of the reasons why we chose these beans from the wide range of Brazilian beans on offer. We roast them to a medium level, which will give you more bitterness and less acidity in the taste, but will still be perfectly balanced. We have tried this coffee in both professional and home espresso versions, as well as in a mocha can, and even in the ultimate open-air version, imitating a French press.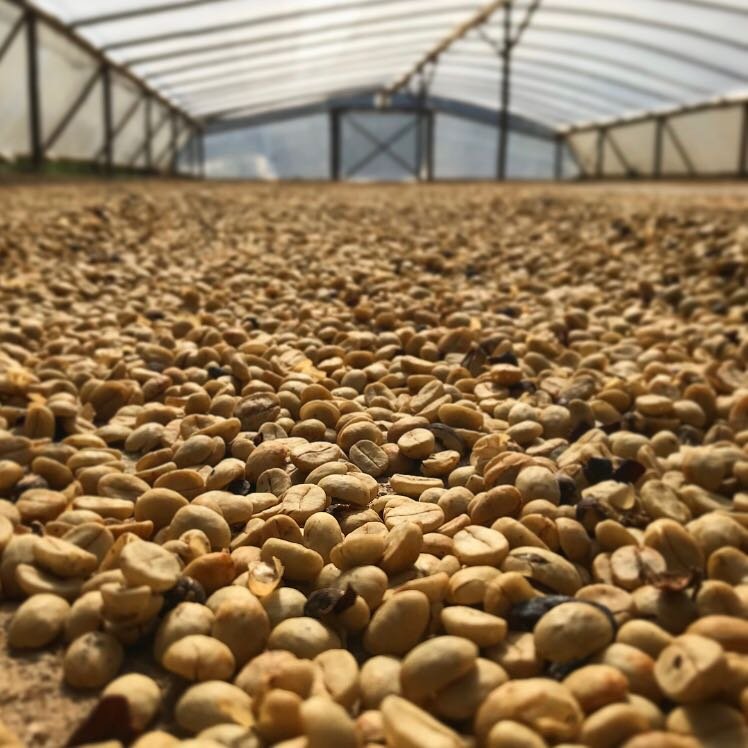 Coffee type: 100% Arabica
Coffee varieties: Red Catuai
Region: Brazil, Espírito Santo
Altitude: 1000 – 1100 masl.
Green beans processing: Honey
SCA score: 83-85
Roast: ●●●○○